[caption id="" align="aligncenter" width="490" caption="Johan Franzen aka "Mule" with the Red Wings Edition Ram 1500."]
[/caption]
Want to be the ultimate
Detroit Red Wings
fan on your block? Having the new Red Wings Edition 
Ram
1500 Express in your driveway might help!
Ram
known for its "Guts. Glory. Ram." tagline, was a perfect fit for a team who can bring a new meaning to "HEMI-Powered Hockey!" Now Ram is amping up their partnership with the
Detroit Red Wings
by releasing a limited edition Ram Express 1500 model.
The
"Official Truck of the Red Wings"
will feature the
Detroit Red Wings
logo on the front-seat headrests, with optional Red Wings embroidered leather seats. The "Detroit Red Wings Edition" graphic will also appear on the truck's tailgate, and rear-bed sides.
Based off the recently introduced
Ram Express 1500 4x4 Crew Cab model
, the Red Wings Edition comes in the appropriate Hockeytown fan colors: red, white and black.
The Red Wings Rams will only be available in extremely limited qualities, but
Courtesy Chrysler Jeep Dodge
is one of the just 90 dealerships who will be selling the special edition trucks!
Stay tuned to our 
Facebook
for further updates on when we will be receiving our Red Wings Rams, so you can come in and check out the "Official Truck of the Red Wings" for yourself!
[caption id="" align="aligncenter" width="490" caption="The Red Wings Edition is based on the Ram Express 1500 4x4 Crew Cab model."]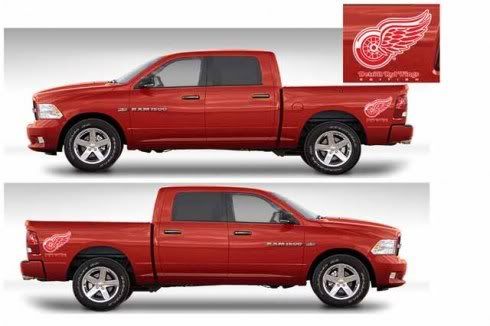 [/caption]
To find out how you can win free gas, check out our Facebook page:
www.facebook.com/courtesycjd
.
More on Ram on GRAutoBlog:

Dodge Ram's Letters for Lyrics
Ram Reveals New 1500 Express Pickup
Dodge Ram Long-Hauler Pickup Concept
Mopar Introduces Ram Runner Off-Road Kit