[caption id="" align="aligncenter" width="489" caption="Volvo S60 R-Design "Journey to the Wedding" Contest"]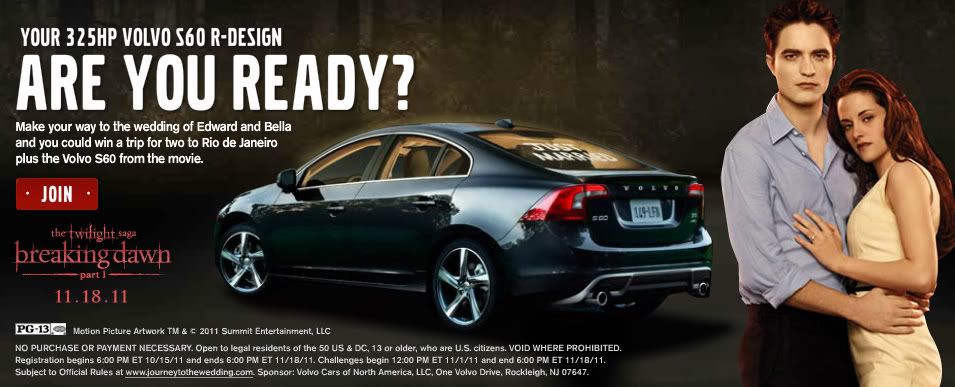 [/caption]
The Twilight Saga
continues its tradition of featuring vampire-driven Volvos with its latest film:
Breaking Dawn: Part 1
and the
2012 Volvo S60 R-design
.
The all-new
Volvo
sedan stands out with its sleek and dynamic styling features, which include stunning rims, sporty tailpipes, added spoilers, and color-coordinated body moldings. For a look at its race-inspired  interior, check out this article on how the S60 earned a
Ward's 10 Best Interiors Award
.
With 325 horsepower, the S60 R-design's sporty looks match the power and performance of its turbocharged six-cylinder engine. The sedan features all-wheel drive with the company's Corner Traction Control torque vectoring system.
Twilight Saga: Breaking Dawn - Part 1 Contests:
Volvo wants to celebrate the release of its S60 and the much-anticipated fourth movie from the Twilight Saga: Breaking Dawn - Part 1. Over at the Volvo Cars US Facebook page, you can enter to win the actual $54,814 Volvo S60 T6 R-design featured in the film! Other prizes include a trip to Rio de Janeiro, mirroring Edward and Bella's honeymoon and tickets to the film premiere.
To learn about the
"Journey to the Wedding" contest
and other Twilight-related giveaways, check out the
Volvo Cars US Facebook page
.
Stay tuned to our Facebook for an upcoming Twilight-themed giveaway.
[caption id="" align="aligncenter" width="512" caption="All-New 2012 Volvo S60 R-Design"]
[/caption]
More on Volvo from GRAutoBlog:
Volvo Concept You
New Report: Volvo City Safety Reduces Low-Speed Collisions
Volvo Develops Animal Detection Safety System
News from Volvo: Tech Progress and Historical Homage
Eco-friendly News from Volvo
World's Highest Mileage Car: Volvo P1800
Volvo, Volkswagen Win Auto Awards
Volvo's Concept Universe
Volvo S60 Wins Ward's 10 Best Interiors Award
Volvo Art Session Time Lapse Film