Hey GRAutoBlog fans,
Fellow reader and big Jeep-enthusiast, Bob Wood is taking the wheel for this guest blog post! I originally connected with Bob after he commented on our 
"Jeep's 70th Anniversary Revs up Chrysler Museum"
article. He mentioned that he had been the lucky owner of the last CJ5 Jeep to be produced in Ohio and had donated it to the 
Walter P. Chrysler Museum
. He provided me with several photographs of the iconic Jeep, along with his
Jeep
story. Read about it in the article
"Classic Jeep's Last Stand: 83 CJ5 Guest Blog by Bob Wood."
Now that Bob has taken his trip to the
Chrysler museum
to celebrate
Jeep's 70th Anniversary
, he has a new story to tell. Below are some of his museum photos and his explanation of the visit. The story is in his own words.
Thanks Bob for once again sharing your story!
GRAutoBlog ContributorAbby HartigEditor's Note:
If you want to share your car's story with us for a chance to be on 
GRAutoBlog
, feel free to email me at ahartig@bettenimports.com. Thank you!
I packed up the Jeep and left for Montgomery, Alabama (475 miles,) on July 10th, to spend the night and next day with my daughter and her family. Was hoping to pick up my grandson, 14, to take him to the museum for the 70th Anniversary of Jeep and to see our 83 CJ5, in which he has spent quite a bit of time with me. That didn't work since he had been to a church camp and had other obligations. On Tuesday, July 12 I left Montgomery for Findlay, Ohio, via I65 to Louisville and I71, to I75 just south of Cincinnati then on to Findlay. Findlay is on I75 45 miles south of Toledo. My sister-in-law and her husband (Bill) have lived in Findlay for years. I intended to use Findlay as a base since Auburn Hills, and the Museum, is only 120 miles on a direct route up I75. Easy drive. My brother-in-law was interested in going to the celebration since he has taken many trips with me in the 83 CJ5.
On July 13, Bill and I left early for the museum, right up I75 to Auburn Hills, just north of Pontiac, and arrived around 9:39 a.m. My museum contact, Brandt Rosenbusch, had made arrangements for our admission. The volunteers and security personnel greeted us with friendly comments about the our Jeep and directed us to its location in the museum.
The
Walter P Chrysler Museum
is one of the finest auto museums I have ever seen. A new, attractive and well-designed building. Upon entering the museum, a spacious main area with a two-story center display area greets you. There is a cantilevered center attraction with four featured cars from Chrysler displayed on each cantilever. Very impressive. There were several Jeep prototypes on the display floor and placards describing Jeep milestones. A volunteer steered us to the elevator, on the main floor, to the lower level, called the "Bosses Workshop," where the Jeep display is located. The elevator is interesting since it is large enough to permit cars into and out of the museum; if you go to the museum make sure you take a ride.
Upon leaving the elevator the main Jeep display was just to the right: a CJ 2A, M 41, and my old friend the 83 CJ5 were lined up together. The CJ2a is a fully-restored 1946, fully restored. The fully restored M41 Jeep was built in 1941, one of 10, sent to the military for evaluation and the only known M41 in existence. My 1983 CJ5 sits next to the M 41: the first short wheelbase bult in Toledo, and is the last short wheelbase built in Toledo. Quite a significant amount of history exists between them, maybe the best series of years the U.S. has ever, or will, experience. I almost cried when I saw it since I drove it 480,000 miles before donating to the Chrysler Museum in November, 2006.
My 1983 CJ5 was bought in San Marcos Texas. Unknown to me, it was the last serial number built in Toledo. I called it my "cheep Jeep" since it only had the large fuel tank and a larger radiator and cost a little over $7,000. It was the only CJ5 Jeep on the dealers lot since the short wheelbase was no longer being produced. It was replaced by the CJ7. There were a total of a little over 600,000 CJ5s produced. Anyway, Bill and I reminisced about the trips, close calls and other excitements while in the Jeep. Fishing-camping trips and pure off-roading in Ohio, West Virginia, Tennessee, Texas, New Mexico, Colorado, Wyoming and Idaho just to mention a few locations.
After reviewing all our experiences in the Jeep, we toured around the lower floor to see all the other Jeeps, trucks, cars and miscellaneous auto history. Dodge trucks from the late 20's, a 1951 four-door Nash Ambassador, various Willys wagons, several early Jeepsters, a Chrysler-driven motorcycle that hit 373 miles per hour and much more. All that were on display were connected to Chrysler directly or related to absorbed automakers. We then toured the first and second floors where we viewed the earliest Chrysler vehicles, WWII engines for aircraft, various military vehicles and accouterments. Each display has a brief description or explanation of the item. There are numerous audio and visual displays adding to your knowledge. I was particularly interested in a 1953 Packard Caribbean Convertible since a neighbor, where I lived in Birmingham, was one of the lead engineers in its design. It had a number of innovative accomplishments, all of which, are fully explained by the display. All autos are in pristine condition and we speculated if they were ever driven. The last cars we viewed were several prototypes by Chrysler designers and were spectacular and very futuristic. A complete, thorough tour of the Museum will take two to three days to do it justice.
Wednesday,July 13th, was the scheduled "Jeep Days" event. Beginning at 5:30 p.m. until dark, on the circular drive in front of the museum, anyone with a Jeep was invited to participate. Bill and I parked my 2007 Rubicon Unlimited in a driveway corner in front of the museum. Music, entertainment and refreshments were available. Each Jeep was given an information sheet and a vehicle number to display on the windshield. Votes were cast for the best Jeep in the group and was won by an early Jeepster. A raffle was held, $1 per ticket, with the winner getting the proceeds from the raffle. Extremely well-organized and well done by the museum staff, the event was a great showing of and for Jeep supporters. Over 300 vehicles showed for the event, approximately 100 Jeeps of all years and modifications. It was truly a gala event for Jeeps from a fully restored CJ2 to a 2011 Wrangler. Ms. Doreen Wright, CEO, of the Chrysler Museum, and her staff, should be congratulated for a perfect event. Bill and I packed up the Jeep and left for Findlay around 8:30 p.m. after having spent a very enjoyable day at the Museum. We had to pick up my son, Wes, at the Toledo airport the next day, July 14th, at noon. Wes, who lives in Jacksonville, is another Jeep enthusiast who has a 1975 CJ5 with 19,000 original miles and wanted to see the 83 CJ5 and its place in the museum. Bill and I arrived in Findlay about 10:30 p.m. after an exhausting, but spectacular day.
The next day, July 14th, we left for the Toledo airport, picked Wes up, and then on to Auburn Hills to show him the Museum and the Jeep. On our way through Toledo, I75 north takes you past the old Willis-Overland site where only a smokestack remains with the company name in white brick. Almost on the same site, American Motors Corporation (AMC) was located and my 1983 CJ5 was built. A little further north on I75, on the left is the new Chrysler Jeep plant where our Rubicon Unlimited was built in early January, 2007. We sped by headed for the Michigan line. A quick stop at the Michigan Rest Stop Visitor Center and we are on our way again. Since I grew up in Detroit and Birmingham every mile brings back memories: Schoolcraft, Livernois, Gratiot, Woodward all trigger memories. The three of us arrived at the Museum about 3:30 p.m. and are met with by the volunteers and security personnel with the same warm reception. Wes is super impressed with the Museum and its layout. We visited the souvenir shop on the main floor and buy several items. We take Wes to the lower floor and he is pleasantly stunned by the Jeep exhibits and our CJ5. He has many miles in the Jeep, learned to drive in the Jeep and took many trips with my dad and me in that Jeep: Good Memories. Three generations.

We retoured the museum the rest of the day and headed back to Findlay. A good day. Friday, 15th of July, we sleep and generally rest up. Saturday, July 16th the Museum has a Jeep History program scheduled for 9:30am which we are interested in seeing and hearing. At 6:30am, the next morning, the three of us head back to Auburn Hills and the Museum for the Jeep History presentation. Such presentations, on various subjects, take place regularly at the Museum; (check the Museum web site at
http://www.wpchryslermuseum.org
for their schedules.)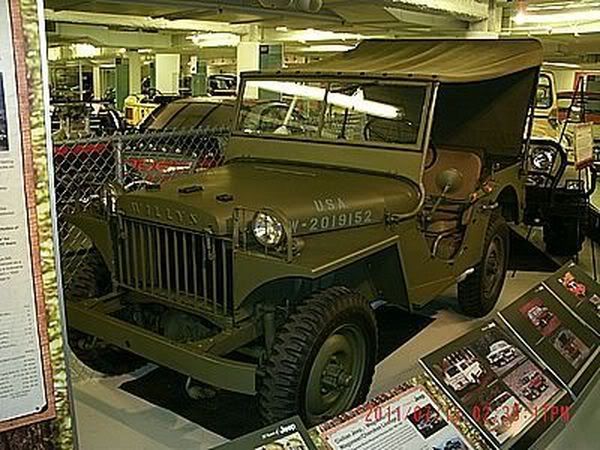 The
"70 Years of Jeep"
presentation was sponsored by the Dana Corporation and took place in the auditorium on the second floor of the Museum. About 50 "Jeepers" attended. Two Jeep engineers, a father son combination, were introduced by Doreen Wright, Chrysler Museum CEO. Both men were instrumental in direct and historical information gathering beginning in 1939 when the Bantam car company began lobbying the Pentagon to request bids for a small 4 wheel drive military vehicle. Development of, and initial production of, military jeeps by Willis-Overland and Ford Motor Company was discussed. Many variations of the Jeep body were shown and discussed, particularly after the war. The term "JEEP" apparently came from a popular Sunday cartoon character by that name in the 30's and 40's. Also possible was the JP designation on some models produced during the war, who knows for sure.
JEEP
is part of the American lexicon and will live on, regardless of how it was derived. The presentation was well done and very informative, well worth the trip. After a nice intermission with coffee and various snacks, the presentation ended at noon. The owner of the 1941 M41 was introduced at the presentation and I had a chance met him later where our two jeeps were displayed. Good conversation. First and last owners of short wheelbase jeeps, very impressive. Could not happen very often. The short wheelbase
JEEP
is an icon and a mark in automobile history, never to appear again. After a quick walk through the Jeep Exhibit on the lower floor, we headed back to Findlay concluding one of the most memorable trips of my life. We dropped Wes off at the Toledo airport for his trip back to Jacksonville and headed back to Findlay. I stay stayed Sunday and Monday in Findlay to recover. Left for Montgomery early Tuesday morning, July 19th, and arrived at 5:30 pm. Spent Wednesday in Montgomery with the grand kids. Left for Daytona, and home, early Thursday morning arriving in Dayton Beach at 5:30pm, just in time for supper. Total trip distance 3450 miles. Rubicon averaged 18.22 mpg actual. 65 mph-2350 rpm-h20 average 205 degrees-oil pressure at 65mph 55lbs-oil temp at 65mph 212 degrees-whole trip went very well.
I'm now preparing for the 75th anniversary of
Jeep
.
- Bob Wood
More on Jeep from GRAutoBlog:

2012 Jeep Wrangler to Feature Pentastar V6 Engine
Most Awarded SUV Ever: 2011 Jeep Grand Cherokee
Classic Jeep's Last Stand: 83 CJ5 by Bob Wood
JK-8 Jeep Wrangler Pickup

Jeep Survivor Concept

Jeep Celebrates 70 Years, Puts You in Driver's Seat

Jeep's 70th Anniversary Revs Up Chrysler Museum