[caption id="" align="aligncenter" width="475" caption="The new 2012 Volkswagen Beetle was revealed today in New York City and Shanghai."]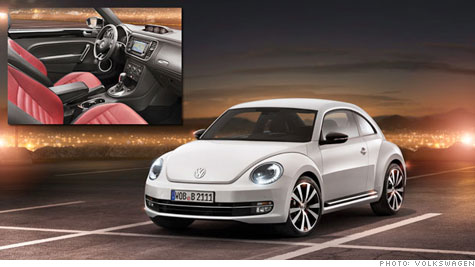 [/caption]
Volkswagen is known for consistently upgrading its brand and recharging old favorites with new styles. And now VW has given one of its most well-known and well-loved cars a sleek, more masculine re-design.
The new bug may be bigger than its predecessor but its fuel economy is improved by 10% and comes available with 3 types of engines: 2.5 liter/5 cylinder gas engine, 2 liter turbocharged gas engine or a 2 liter diesel engine.
Volkswagen, not forgetting to add fun features to its most cheerful and female-friendly car, has added a panoramic sunroof and a variety of adhesive wraps that will reflect the drivers' personality and original style.
The much anticipated 2012 Volkswagen Beetle had a global-wide release that featured MTV World Stage events in Berlin and New York City.
Stay tuned to
GRAutoBlog
for details on when the new Beetle will be released to dealerships!